Welcome to St. John the Theologian Greek Orthodox Church
St. John the Theologian Greek Orthodox Church serves Orthodox Christians in the Clear Lake area. It is located in Webster, Texas about half way between downtown Houston and Galveston. This area is home to the Lyndon B. Johnson Space Center, and the Clear Lake Recreational Area. Being the only Orthodox Christian parish in this area, St. John serves Orthodox Christians from a variety of nationalities and backgrounds. Learn More...
Daily Readings, Services & Events
May 26
Carpos and Alphaeus, Apostles of the 70
May 27
5:30 pm
Vespers followed by Divine Liturgy for Ascension
7 pm
ONLINE ONLY: Adult Greek School
May 29
Theodosia the Virgin-Martyr of Tyre
Join our Church E-Mail Distribution List!
PRAYER FOR PROTECTION from the CORONAVIRUS
O God Almighty, Lord of heaven and earth, and of all creation visible and invisible, in Your ineffable goodness, look down upon Your people gathered in Your Holy Name. Be our helper and defender in this day of affliction. You know our weakness. You hear our cry in repentance and contrition of heart. O Lord who loves mankind deliver us from the impending threat of the corona virus. Send Your Angel to watch over us and protect us. Grant health and recovery to those suffering from this virus. Guide the hands of all medical personnel, and preserve those who are healthy that we may continue to serve You in peace and glorify Your most honorable and majestic Name, of the Father and of the Son and of the Holy Spirit, now and forever and to the ages of ages. AMEN.
---
CHRISTOS ANESTI - CHRIST IS RISEN!
We are excited to announce that His Eminence has granted us his blessing to begin opening up our Church to the faithful! We are limiting the number of parishioners who can attend to 25 so that we can meet social distancing directives specified by Metropolitan Isaiah and the State of Texas. We have created a group page on signup.com to manage attendance at upcoming services. Please select the service you would like to attend and RSVP for a spot in the church. We have added RSVP options for those parishioners wishing only to come to the church and light a candle. Please use this link to RSVP for upcoming services: https://signup.com/go/XZwxERB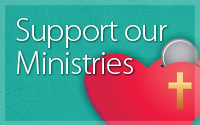 View our online weekly parish bulletin
---
AmazonSmile
Help support our church by making your Amazon purchases through AmazonSmile: